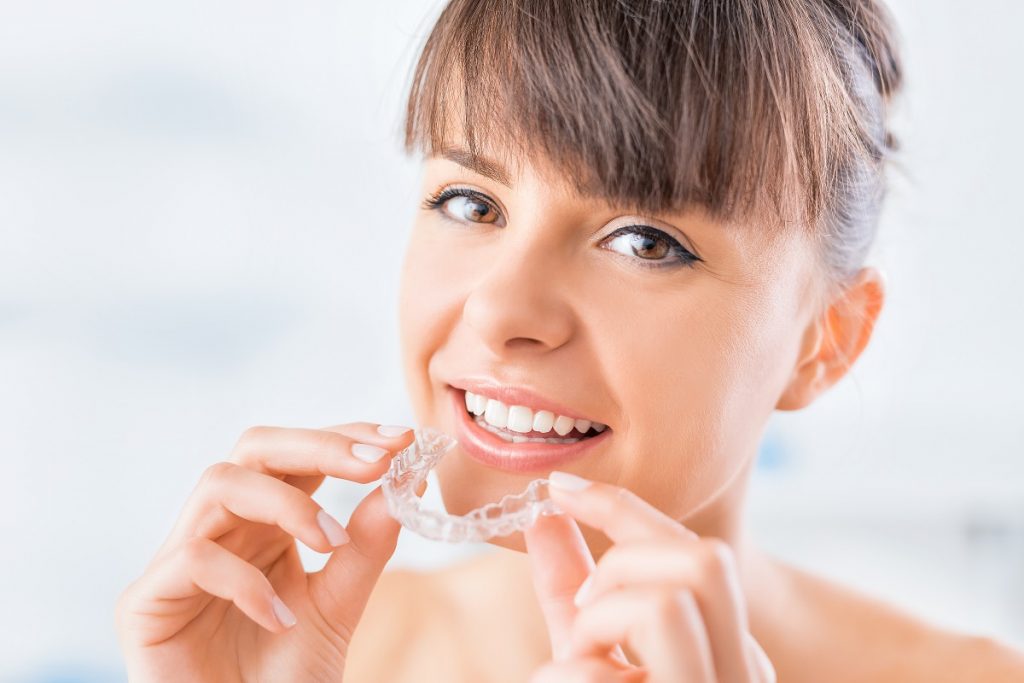 There are traditional braces, and there are invisible aligners. The latter, marketed under the name Invisalign, straightens your teeth just as well as standard metal braces but has several advantages. Here board-certified dentist Dr. Jennifer Santoro of Village Center Dentistry discusses five reasons why patients prefer Invisalign over traditional braces.
1. Invisibility and Aesthetics
There's a reason the makers of Invisalign chose this brand name. Unlike traditional braces, Invisalign's clear guides are not very noticeable. Unless you let the cat out of the bag, almost no one is going to know you are wearing these invisible aligners.
Because your mouth is not full of metal, you look and feel more attractive.
2. Cleaning Ease  
Cleaning traditional braces requires all sorts of steps not needed with Invisalign. Because they are removable, just take them out and brush and floss as usual. Reinsert them and you are good to go. Traditional braces, with all that metal and wires, can make daily oral hygiene a much more complex procedure.
3. Comfortable Wear
There is little discomfort in wearing Invisalign. That's not the case with traditional metal braces, which can cause small cuts in the mouth from wires. Invisalign is made from a flexible, smooth plastic. While it can take a week or so to get used to Invisalign, it does not hurt.
Since aligners are similar to mouthguards, you can play sports while wearing Invisalign.
4. No Food or Beverage Restrictions  
Because Invisalign's aligners are removable, you do not have to deal with the food and drink limitations necessary with traditional braces. Eat whatever you want, as long as you take the aligners out beforehand. Enjoy apples, corn on the cob and other favorites without worrying about the effect on your braces. Unlike traditional braces, there's no concern about getting food particles stuck in the aligners.
Keep in mind you will need to clean your teeth before reinserting Invisalign.
5. Little Maintenance
Invisalign needs very little maintenance. Other than cleaning the aligners with your toothpaste in the morning, there's nothing else required.
Invisalign patients don't have to deal with the numerous issues that can occur with traditional braces. That includes loose wires or brackets falling off, or broken rubber bands. That also means the odds of needing an emergency orthodontist are almost nil. There are fewer dental visits needed overall with Invisalign.
Contact Us
If you would like to know more about Invisalign benefits and whether you are a candidate for invisible aligners, contact Dr. Santoro at Village Center Dentistry at (858) 566-8510 to schedule a consultation. Get started on improving your smile!