Cosmetic Dentist in Scripps Ranch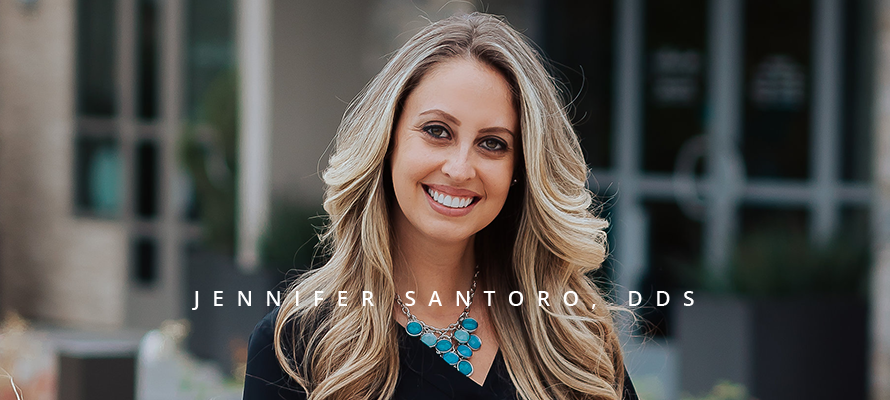 Dr. Jennifer Santoro and the team at Village Center Dentistry are committed to providing you and your entire family world class dental care. Conveniently located in the Scripps Ranch area of San Diego, they pride themselves on being a "homey" and comfortable practice. They have created a very private and relaxed environment in which you are treated like family and can receive the dental treatment you need. Their goal is to help you enjoy a healthy smile for life.
Dr. Santoro believes in delivering personalized care and one-on-one attention that is virtually unmatched by other busy dental practices. Offering a wide array of services, Dr. Santoro practices comprehensive, yet conservative, dentistry; this means that she places a big emphasis on preventing dental problems before they begin, as well as preserving as much healthy tooth structure as possible during the restorative process. For you, that means less discomfort and need for less anesthesia during treatment, and natural teeth that can last a lifetime.
Meet Cosmetic Dentist Dr. Jennifer Santoro
Jennifer D. Santoro, D.D.S., earned her undergraduate degree from the University of California, San Diego, and her dental degree from the University of the Pacific Arthur A. Dugoni School of Dentistry. Before moving back to San Diego, she worked in private dental practices in the Los Angeles County area. Once in San Diego, Dr. Santoro worked at two private practices in Coronado and Encinitas, before taking over the practice of Dr. Stephen Tuttle, promising to uphold his tradition of treating his team and patients like family.
Dr. Santoro is known for providing personalized, quality dental care with a gentle touch. She will take the time to learn about your specific needs and concerns and then carefully tailor your treatment plan to achieve your goals and exceed your expectations. Her areas of expertise include general and family dentistry, pediatric dentistry, restorative dentistry, cosmetic dentistry, dental implants and orthodontics.
She belongs to national, state and regional dental organizations, including the American Dental Association, American Academy of Cosmetic Dentistry, California Dental Association and San Diego County Dental Society, which allows her to stay abreast of all of the latest advances in dental technique and technology.
Schedule a Dental Consultation
Our mission at Village Center Dentistry is to provide you with the best possible oral health care in an enjoyable setting. We appreciate the trust that you have placed in us by choosing our office for your dental needs. We look forward to meeting you and will do all that we can to make your visit as pleasant as possible!
If you would like to learn more about Dr. Santoro and our team, or book a visit at our practice, please call or email us today.