Dental Care Rancho Peñasquitos
Village Center Dentistry is the dental practice of choice for individuals from Rancho Peñasquitos and beyond. Patients can expect world-class dental care delivered in a warm, welcoming environment from Dr. Jennifer Santoro and her team of professionals.
Dr. Santoro is well-known for her comprehensive yet conservative approach to dentistry. She focuses on preventing painful, costly dental problems before they begin through routine exams, cleanings and other preventative services. When restoring or rebuilding teeth that are damaged or decayed, Dr. Santoro believes it is important to preserve as much healthy tooth structure as possible. For patients, this means a more comfortable dental treatment experience, less need for anesthesia and overall healthier teeth that last longer.
Dr. Santoro offers a wide range of dental treatments, from general to cosmetic and restorative. Every treatment and procedure is performed with a gentle touch, an eye for artistry and advanced technology.
Dental Implants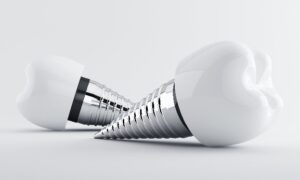 Dental implants are a safe, reliable way to replace one or more missing or compromised teeth. An implant replaces the entire tooth structure, from root to crown. Implant posts can hold a single crown or anchor a larger dental restoration, such as a dental bridge or denture appliance. Dr. Santoro's patients prefer dental implants to other tooth replacements because they are strong, durable and look remarkably lifelike.
Same-Day CEREC Crowns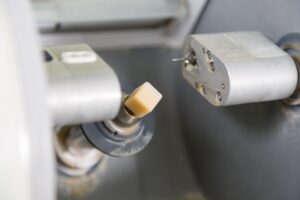 CEREC has revolutionized the process of designing and fitting a dental crown. Within a single appointment, Dr. Santoro can plan, place and perfect beautiful crowns thanks to the CEREC platform. The high-quality restorations are milled right in the office as patients wait, so there is no need for multiple dental appointments. Any adjustments can be made right on the spot for the ultimate convenience.
Invisalign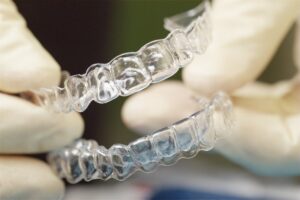 Invisalign is a popular tooth straightening alternative to traditional orthodontics. Instead of spending two years or longer wearing uncomfortable metal brackets and wires, Invisalign patients cycle through a series of customized plastic aligners that gradually shift teeth into the ideal position and alignment. Because the aligners are clear and thin, they are virtually unnoticeable to others. The aligners are also removable for eating, drinking, brushing and flossing. Many patients are able to complete Invisalign treatment in less time than what is required with metal braces.
Porcelain Veneers
As a skilled cosmetic dentist, Dr. Santoro frequently places porcelain veneers on patients desiring an A-list smile. These ultra-thin pieces of porcelain are bonded to the front surfaces of flawed teeth to improve their color, shape or size. In some cases, veneers can also conceal small spaces between the teeth. Many of Dr. Santoro's patients choose to have a set of veneers placed over all of the front teeth that show when smiling, for a flawless result.
TMD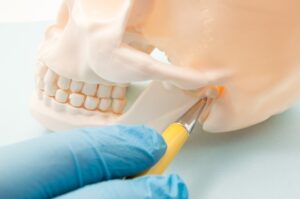 The temporomandibular joint (TMJ) is a complex system of joints and muscles that makes it possible to open and close the jaw. Factors like a traumatic injury, arthritis or other degenerative diseases can lead to TMJ disorder (TMD), which causes significant pain and discomfort and makes it difficult to open and close the jaw. Chronic teeth grinding or clenching has also been linked to TMJ problems. Common approaches to treating TMD include the following:
The use of a mouth guard to protect teeth from nighttime grinding or clenching
Relaxation techniques to control tension in the jaw
Prescription of muscle relaxants
Orthodontic treatment to address malocclusion that contributes to TMD
General Dentistry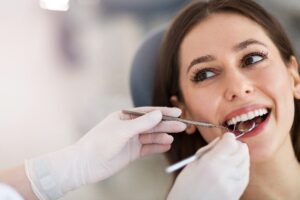 General dentistry services like teeth cleanings and exams are a cornerstone of optimal oral health. These appointments allow Dr. Santoro and her team to thoroughly clean the teeth and check for emerging signs of dental problems before they become too serious. Supplemental general dentistry treatments such as fluoride treatments and sealants are also useful in helping to prevent oral health problems like tooth decay.
Teeth Whitening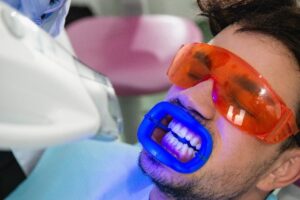 Professional teeth whitening is a quick and simple way to brighten up a dull smile. Using a powerful bleaching agent, Dr. Santoro and her team can lift stubborn stains and improve the overall color of the teeth. Village Center Dentistry uses the Zoom! system, which lightens teeth up to eight shades in two hours or less.
Smile Design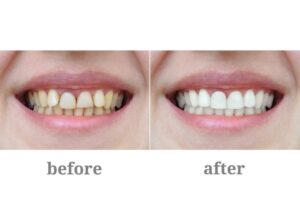 Smile design is the process of completely transforming a smile's appearance. Dr. Santoro combines two or more cosmetic dentistry procedures, such as teeth whitening and porcelain veneer placement, all of which are intended to improve the beauty of the smile. Smile designs are often requested to cover up tooth stains, close small spaces between two teeth, improve the size, shape or alignment of imperfect teeth or even out the gumline. No two smile designs are exactly alike, as treatment is customized to the unique needs of the patient.
Contact Village Center Dentistry Today
If you live in Rancho Peñasquitos or the surrounding areas and would like to request an appointment with Dr. Santoro, please call or email Village Center Dentistry today.