Pediatric Dentistry in Scripps Ranch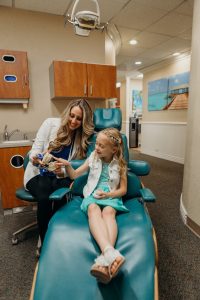 Pediatric dentistry is a branch of dentistry that focuses on protecting and preserving children's oral health. It's important for children to see a dentist from an early age to instill positive associations with dental care and set up healthy oral hygiene habits for life. Children are less likely to avoid the dentist later in life if they have been taught since they were young about the importance of dental care.
Dr. Jennifer Santoro of Village Center Dentistry offers comprehensive preventative and therapeutic dental services for children throughout infancy into the teenage years. She enjoys working with children and has a gentle touch that is very well received by her littlest patients. Children and parents alike respond well to her positive, personable demeanor. Our entire office is devoted to treating children of all ages with respect and building a sense of trust from their very first visit.
Pediatric Dental Services
Preventive Dental Care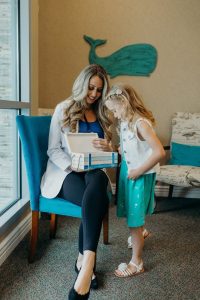 Preventive care is extremely important for children, as it can help them avoid problems like cavities, which are a very common childhood ailment. Preventive care encompasses services like regular dental check-ups and cleanings with Dr. Santoro and our team; it also involves diligent at-home hygiene practices such as brushing and flossing. Our team takes the time to educate our young patients' parents, giving them the information and tools they need to understand their children's tooth development and to properly supervise brushing and flossing. Dr. Santoro and our team can help create a long-term dental care plan that includes information about tooth growth and development and outlines how often to return to the office for preventative visits.
Although every child is different, we generally recommend that a child's first dental visit take place around the time their first tooth grows in, or around their first birthday (whichever comes first).
Fluoride & Sealant Treatments
Fluoride treatments and sealants also fall under the preventative umbrella, as they can help reduce the risk of problems like cavities. Fluoride treatments involve applying fluoride directly to the teeth to strengthen them and make them resistant to acid and decay. Sealants are small plastic coatings usually placed on the back teeth to prevent bacteria and debris from accumulating in the small nooks and crannies of the tooth surface.
Filling & Orthodontic Treatments
As children grow up, their dental needs shift. Some children develop cavities and require tooth-colored fillings to repair the teeth. School-aged children that are active in sports should be fitted for custom mouth-guards to protect the teeth from injury. Older children that have lost all of their baby teeth and find their permanent teeth are crooked or crowded may want to explore their orthodontic options. Older teens may be interested in making other cosmetic modifications to their smiles with treatments like Invisalign, ClearCorrect or dental bonding.
Frequently Asked Questions About Pediatric Dentistry
What happens during my child's first dental visit?
During your child's first dental visit, Dr. Santoro and our team will get to know your child in a low-key, welcoming environment. We want to create positive associations with dental care so your child is more likely to want to come back and see us!
Our team will examine your child's mouth, looking for any signs of cavities or other problems affecting his or her teeth, gums or jaw. We want to ensure your child's teeth and jaws are developing normally. Our hygienists will perform a gentle cleaning and apply a fluoride varnish if needed. We might take a set of X-rays to use as a baseline for future examinations.
We will also talk to you and your child about taking care of his or her teeth. If you have any questions or concerns, we will take the time to address them.
During the exam and cleaning, your child can sit on your lap if he or she cannot or does not want to sit alone in the dental chair. Don't worry if your child is restless or cries during the appointment — this is totally normal and our staff is very understanding.
How can I prepare for my child's first visit?
Be intentional when scheduling the appointment — avoid scheduling it during your child's naptime. Plan the appointment for a time of day when your child is likely to be rested and cooperative. Give your child a light meal and brush their teeth prior to the visit. Maintain a positive attitude leading up to and during the appointment, as your child will pick up on your mood.
Should I worry about tooth decay in baby teeth?
Yes, decay in baby teeth can cause discomfort and pain. If left untreated, decay can lead to serious infections. To reduce the risk of tooth decay, avoid giving your child sugary foods and make sure your child brushes (with or without your assistance) at least twice a day and flosses once a day. Ask Dr. Santoro about fluoride and sealant treatments to minimize the risk of cavities.
What is the best way to protect my child's teeth if he or she plays sports?
Wearing a protective mouthguard for contact or collision sports (e.g., football, basketball, hockey) can prevent your child from experiencing a sports-related injury. Custom-fitted mouthguards are comfortable, lightweight and offer the best protection against unexpected contact that could injure the teeth or jaw.
What kind of fillings does Dr. Santoro place?
Dr. Santoro offers composite fillings, which are metal-free and provide a very natural look. Composite fillings are strong and protect the affected tooth from fracturing or developing additional damage. The fillings also allow Dr. Santoro to preserve a greater amount of healthy tooth structure than other types of fillings.
What should I do if my child develops a toothache?
If your child complains of a toothache, have him or her rinse with warm saltwater. If pain persists, it might help to apply a cold compress to the outside of the cheek. Also, schedule an appointment with our team to have your child get checked out for any dental problems, such as a cracked tooth, decay or a loose filling.
Book a Pediatric Dentistry Appointment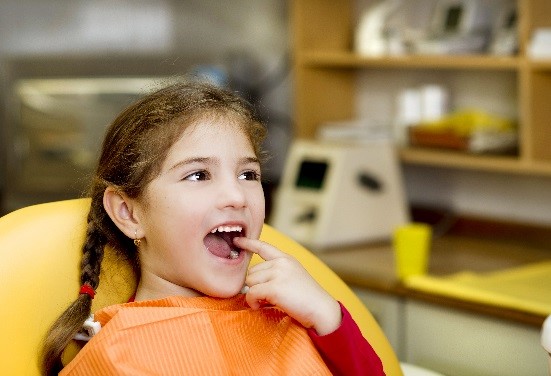 If you are looking for a dentist to handle your child's dental care, Dr. Santoro would love to meet you. Please contact Village Center Dentistry to schedule an appointment to meet Dr. Santoro and the rest of our team, and discuss your child's dental treatment needs. Call or email us today.