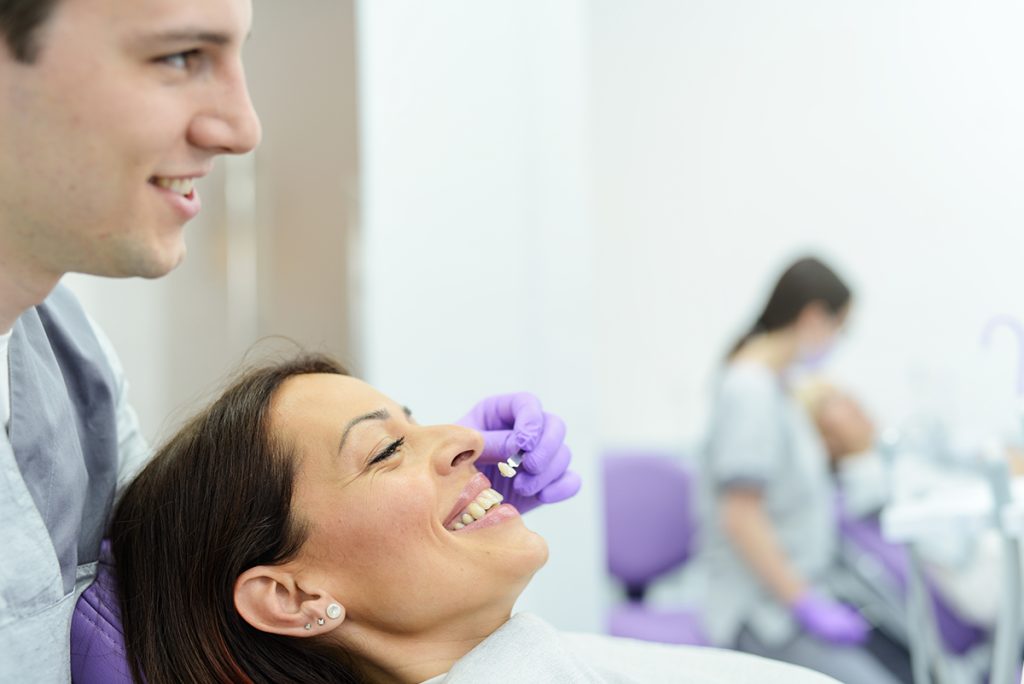 A good-looking grin can do wonders for your self-esteem. Your romantic, social and work life can all benefit from a sparkling smile, and porcelain veneers are an excellent way to address one or more cosmetic concerns with your teeth. Dr. Santoro can help you decide if porcelain veneers are right for you during your exam at our San Diego office.
These thin, porcelain shells have many uses, including the following cosmetic issues.
Deep Tooth Discoloration
Teeth whitening can improve surface layer tooth discoloration and stains found on the enamel that protects your teeth and can provide a white sheen. However, deeper staining and discoloration require a different approach. Underneath the enamel of your teeth resides the dentin, a sensitive, yellowish tissue that darkens as you get older. Tooth staining and discoloration from thin enamel could be caused by poor dental hygiene and childhood exposure to certain antibiotics or tooth trauma. Porcelain veneers address these issues by covering the affected teeth and mimicking the natural shine of your given teeth.
Porcelain veneers are made to match the shade of your adjacent teeth and are often combined with teeth whitening to give you a brilliant smile all around.
Crooked, Overcrowded or Gapped Teeth
Orthodontics can be costly and time-consuming. Porcelain veneers offer a more affordable option to correct minor alignment concerns such as visible teeth when you smile that are slightly crooked, overcrowded or gapped. The porcelain veneers are designed not to add bulk to your teeth and look extremely natural. Veneers are customized not only in the shade but also the shape. The contour of your porcelain veneers gives you a straighter smile that will last you many years with proper care.
Worn Teeth and Chipped or Broken Teeth
Tooth damage can happen any time, such as when you bite down on a pen or grind your teeth when you are stressed. That wear and tear can take a noticeable toll with tooth chips and cracks. Porcelain veneers are a great way to cover these imperfections. If these chips, cracks or wear are too extensive Dr. Santoro can talk to you about cosmetic crowns, which have the same esthetic end results as veneers.
Contact Village Center Dentistry About Porcelain Veneers
Dr. Jennifer Santoro can help you find the best route to a beautiful smile during your dental exam at our San Diego office. We offer our patients the latest dental techniques and technologies and believe in making everyone feel like family.