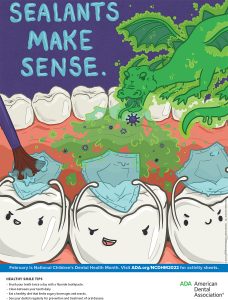 February is National Children's Dental Health Month, according to the American Dental Association (ADA), and our dentist hopes you'll join us in celebrating good oral health in children by scheduling a dental exam for your little one. The ADA's focus during this awareness month centers around sealants placed during your child's dental exam.
"Sealants Make Sense"
Dental sealants are plastic coatings placed over your child's teeth to protect the tooth and prevent bacteria buildup from causing tooth decay. Sealants are an excellent way to prevent cavities and, when positioned on permanent molars, may lower your kid's risk of cavities by an astonishing 80 percent. Dental sealants are just one of several parts of a comprehensive approach to children's dental health.
Tips for Good Oral Health in Children
It's important to instill good dental hygiene habits at an early age, so Dr. Jennifer Santoro recommends bringing in your child for a dental exam as soon as their first tooth breaks the surface during infancy (or around their first birthday). Regular dental exams help your kids feel comfortable in the dentist's chair and show them how essential it is to take care of their teeth, gums and mouth. Dr. Santoro is known for her ability to make pediatric dental exams a comfortable, welcoming and fun experience for all ages, from infants to teenagers. She will explain to your children how to maintain a healthy smile, including:
How to brush their teeth and why it's essential to brush twice a day with fluoride toothpaste.
Flossing and cleaning between the teeth daily to prevent bacteria from building up around the teeth and gums.
Eating healthy foods and limiting beverages and snacks high in sugar.
What to Expect at Your Child's First Dental Exam
Dr. Santoro works to provide a welcoming, low-key visit for your child's first dental exam. Your child can sit on your lap if they feel uneasy being on their own in the chair. Dr. Santoro will look for signs of tooth decay and other concerns with the teeth, gums and jaw development to make sure the teeth are growing in as expected. A gentle cleaning, fluoride varnish and X-rays may be a part of the exam for an older child. Dr. Santoro will discuss dental hygiene and may show you how to help your child brush their teeth each morning and night.
Depending on your child's age, fluoride and dental sealants may be used during the dental exam to prevent tooth decay and strengthen the teeth.
Schedule Your Child's Dental Exam at Village Center Dentistry
Dr. Santoro believes in making every patient feel like family, so your children feel at home during their dental exam. Join us in celebrating children's dental health month at Village Center Dentistry by scheduling a dental exam for your child at our San Diego office.