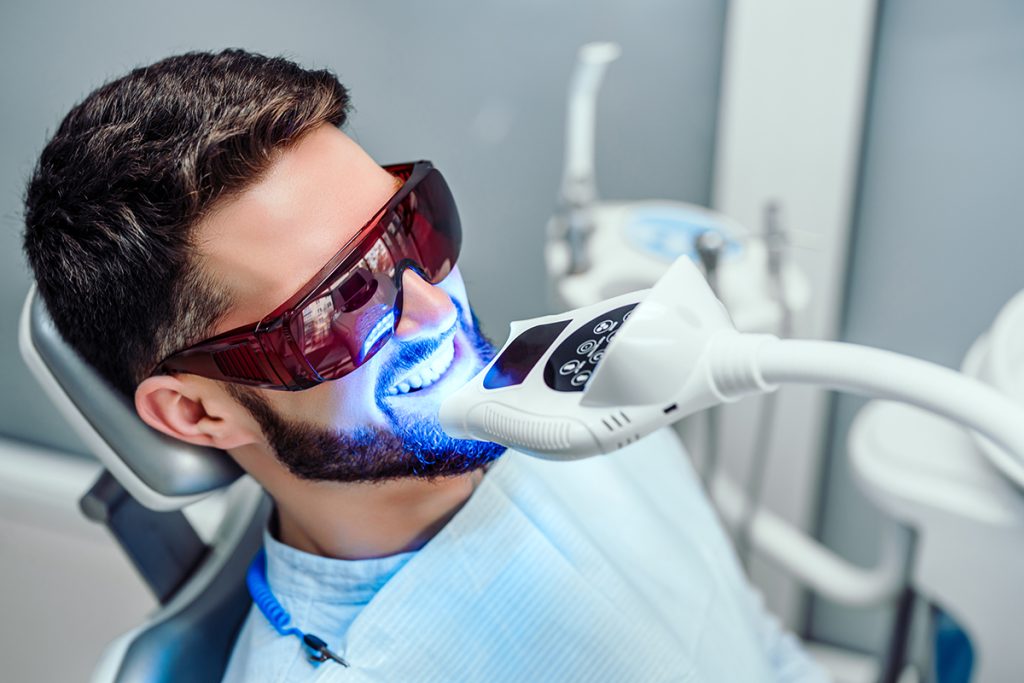 Consumers are inundated with ads for products that promise to whiten their teeth quickly and effectively, but due to many factors, these whitening gels, strips and the like can't deliver the same results as professional whitening. Professional teeth whitening at our San Diego office or with at-home trays can safely brighten your teeth by many shades, and you may be surprised to find this cosmetic dentistry option is more affordable than you think.
While our customized at-home whitening trays are a great way to brighten your smile, in-office treatment is the only way to whiten your teeth quickly. Some of the benefits of teeth whitening at Village Center Dentistry include:
1. Faster Whitening Treatments
We offer Zoom! teeth whitening treatments that utilize a stronger bleaching gel on the teeth than any over-the-counter strips or at-home professional trays. The whitening agent is activated by a special light for immediate, dramatic results. Dr. Santoro's assistant will monitor you during the two-hour treatment to prevent sensitivity and discomfort while Zoom! brightens your teeth up to eight shades.
2. Even Teeth Whitening
While many over-the-counter whitening products don't contain strong enough whitening agents to create visible results, the strips, trays and gels that do can lead to uneven teeth whitening. This is because the teeth whitening product isn't customized to your bite and the bleaching gel doesn't stay in contact with the entire front surface of your teeth. In-office teeth whitening or our at-home whitening trays provide even results because they're customized to your bite.
3. Fewer Risks
Some whitening products found online and in stores that contain strong bleach gels can lead to tooth sensitivity and damage your tooth enamel. Stripping your tooth enamel can reveal the dentin underneath, which is yellow in color and will not respond to teeth whitening treatments. The uneven distribution of the whitening agents can also irritate your gums and surrounding tissues. In-office teeth whitening treatments with Dr. Santoro are carefully planned to prevent tooth sensitivity and are customized to your bite to avoid gum irritation.
4. Long-Lasting Results
In-office teeth whitening treatments brighten your smile in two hours for long-lasting results. However, your teeth can still stain over time from dark-colored beverages and habits such as smoking. When in-office treatments are combined with our at-home whitening kits, you can enjoy a bright, beautiful smile long-term through touch-ups at home.
5. Customized to Your Needs
Generic whitening products offer the same results for anyone who buys them, but professional teeth whitening treatments are curated just for you. Dr. Santoro will evaluate your teeth and discuss your tooth whitening options. If you have tooth sensitivity or thin enamel, she can customize your teeth whitening treatment to accommodate these issues so you can brighten your smile without compromising the integrity of your tooth enamel.
Zoom! in-office teeth whitening treatments can deliver excellent results in just one visit, but intrinsic stains such as those caused by antibiotic use during childhood will not respond to any whitening options. Porcelain veneers, crowns and dental bonding are other ways to brighten your smile in this case.
Schedule Your Teeth Whitening Treatment in San Diego
If you are interested in professional teeth whitening, contact Village Center Dentistry in San Diego to schedule your appointment with Dr. Santoro today.